Aromasin is the brand name of the active substance Exemestane (and any other brand with Exemestane is the same Aromasin) that was originally manufactured by Pharmacia & Upjohn, yet Pfizer is the most popular pharmacy company selling this drug. The drug was approved by FDA more than 20 years ago and is medically used for treating and slowing down the growth of breast cancer in post menopausal women (cancer that requires estrogen).
Aromasin is an orally active medication coming as tablets and is in the class of drugs known as Aromatase Inhibitors (AIs).
In the world of bodybuilders, it is considered an anti estrogenic medicine and therefore, an estrogenic protective compound.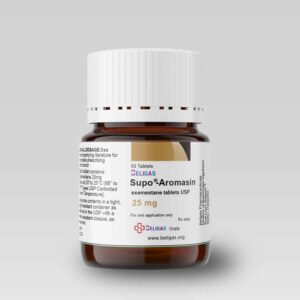 Buy Aromasin Here
Explaining Aromasin – Exemestane
Although Aromasin (Exemestane) is in same class of drugs as Arimidex (Anastrozole) and Femara (Letrozole) for being an aromatase inhibitor (AI), Aromasin (Exemestane) is different because is a suicidal aromatase inhibitor (AI), unlike the other 2 drugs that are non suicidal. This means that this is the only AI that permanently binds to the aromatase enzyme and blocks the aromatization.
The compound is going to prevent estrogen rebounding, unlike other AIs that only temporarily stop estrogen from being synthesized through aromatization. This is the reason why some steroid users experience a spike in estrogens (and get estrogen symptoms) after cycle even when the AIs are used.
In the end, Aromasin – Exemestane is a very effective estrogen inhibitor, reducing the levels up to about 85%!
Aromasin Dosages
As said – Exemestane (Aromasin) comes in the form of oral tablets and due to its pretty long half life of 25-27 hours, the compound is used maximum once per day. But there are many people who choose to use it once every other day.
Because Aromasin is not liver toxic, it can be administered for long cycles without being worried you might damage your liver.
Is important to remember that the dosage of Aromasin – Exemestane is highly dependent on various factors when talking about its use for bodybuilders. The dosage is mostly determined by the individual's own tolerance as well as the amount of aromatizing products the person uses.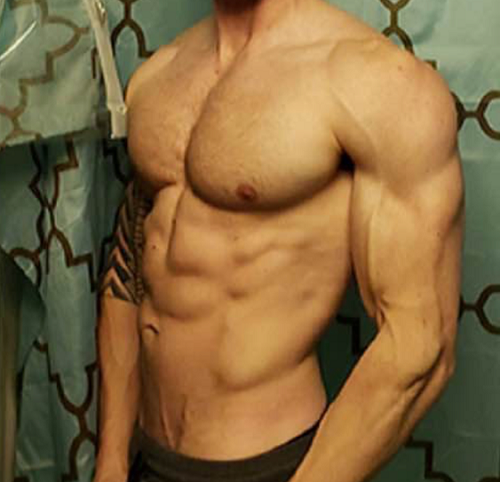 In most cases, the starting dosage is 12.5 mg every other day. It can be increased to either 25 mg every other day (or 12.5 mg every day) or up to 25 mg every day. Rarely does someone need such high doses.
The individual should watch out for symptoms and preferably, to have blood work to check how their bodies react and adjust the dosage according to their needs. Experienced users of steroids are using their preferred dosage without any issues.
If you start experiencing any nasty symptoms, it is highly recommended to reduce the dosage. But if you start feeling estrogen related issues like water retention or puffy and/ or sensitive breasts – you may need to increase the dosage.
Aromasin Side Effects
Is very unlikely to experience side effects from the use of Aromasin during the anabolic steroid cycles as long as you use the compound properly. When Exemestane is used in an appropriate manner, males rarely report some side effects.
They are most likely to occur to women due to a variety of reasons. They need higher doses than men, they need more estrogen than men and also, they need to run Aromasin for way longer periods for treating breast cancer than men who need estrogenic protection during the cycle.
Some men still report side effects such as joint pain from dryness because estrogen is important in bone density. This means that Aromasin dosages should be reduced.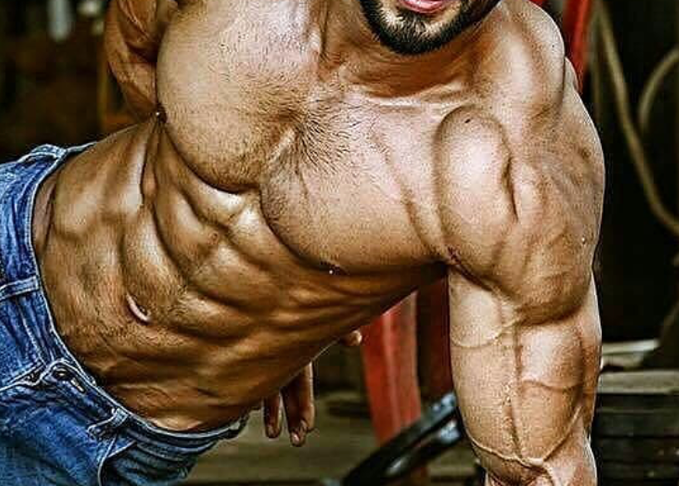 Other side effects may include:
Insomnia
Mood disorders
Hot flashes
Fatigue
Headaches
Dizziness
Nausea
And others
In the end, you are way more likely to experience estrogen related side effects from using anabolic steroids without Aromasin, than side effects from Aromasin itself, especially if used adequately.
In the end, if you plan to use aromatized steroids (not all steroids aromatize) we highly recommend to use Aromasin – Exemestane (or at least any other AI). Taken in consideration that most bulking steroids do aromatase and testosterone itself aromatizes (which is recommended in almost all steroid cycles) you're going to need AIs in most of your cycles.
Use the compound properly.
Not using it at all or not enough would lead to high estrogen related side effects such as water retention, gynecomastia, bloating, heart strain and high blood pressure.
Using too much of it, you are likely to suppress too much estrogen leading to low energy and sex drive, affecting your mood and libido, leads to dry joints, affects your central nervous system and leads to fatigue and dizziness as well as you can't grow muscles and gain strength.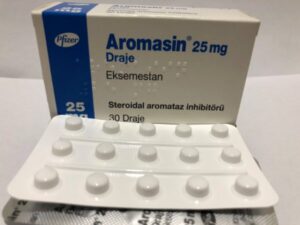 We're a source of best quality products for bodybuilders where you're also able to buy Aromasin for sale of best quality at LandOfMarbles.com
Buy Aromasin Here